Luton & Gatwick Airport Private Transfers
Private Transfers Including Groups Between LTN & LGW
The distance between Gatwick and Luton is around 70 miles. The airports are linked by two motorways. In normal traffic conditions a motor vehicle will take around 90 minutes to complete the journey.
However, the motorways used are some of the busiest and most congested in the UK. Between 06:30 and 10:00 and 16:00 and 19:00 during weekdays there is a strong likelihood of further delays through traffic congestion.
Flat Fare Whether Terminal or Airport Hotel
For all but the largest of groups we have a flat transparent fare between Gatwick and Luton.
This includes Meet & Greet at airport terminals.
We also go direct door to door to the respective airports hotels at no extra charge, escaping the charges of the hotel transfer buses that soon add up.
Outsize Luggage, Wheelchairs, Electric Scooters, Bicycles
With our small minibuses and above we also can handle lots of luggage and large outsize items without surcharges.
Most common items carried are electric scooters, wheelchairs, bicycles and surfboards.
Inter Airport Transfers

Airport to Airport Transfers

Airport Hotels

Airport Day Rooms

Airport Lounges

Groups
Inter Airport Transfers
Airport to Airport Transfers
Airport Hotels
Airport Day Rooms
Airport Lounges
Groups
Vehicle Options - From 1 passenger to 100!
We have options to cater for all party sizes.
On transfers the amount of luggage can be as critical to the right selection of vehicle as number of passengers, so do pause to reflect on this aspect.
Saloon Cars / Sedans / Estates - For Up To 5 Passengers
Saloon/ Sedan car or MPV/Estate/Station Wagon size vehicle. Will take up to 5 full size adults and around 4 cases with some small hand luggage. Ideal for a family.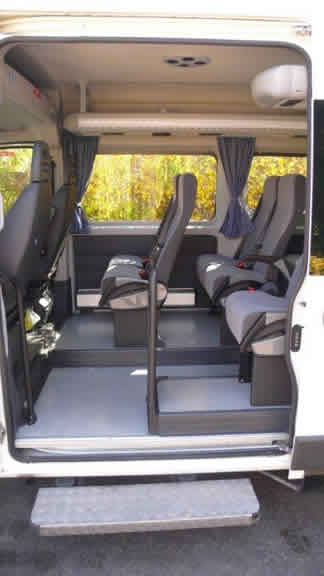 Air-conditioned & Roomy Small Buses
All driver waiting time and airport parking included in airport pick-ups - No extra charges if your flight is delayed!
Baby seats or child booster seats supplied on request and are of course free of charge.
At passenger terminals the driver will be waiting for you as you exit the customs and luggage retrieval channel to escort you to the waiting vehicle.
Small Buses - 8 To 16 Seats With Room For Lots Of Luggage
Air conditioned roomy small buses with 8, 12 or 16 seats and lots of luggage room for small groups. These buses are proper purpose built buses, not cramped converted vans.
These small buses are small enough to get in the car parks at airports, big enough to qualify to use the special bus lanes in Central London.
The buses can also carry outsize items, commonly wheelchairs, electric scooters, bicycles and surfboards.
Drivers meet and greet at airports, hotels and ports just like the cars.
Full Size Touring Coaches For Large Groups
If you have a large group then that is not a problem either
The largest coaches are 50 seat coaches but we also have access to vehicles half that size.
With large groups if your average passenger is bringing more than one large case and a small item of hand luggage it might be the luggage capacity of the vehicle rather than the number of passengers that drives the correct size of vehicle required. The point being that estimating the amount of luggage you will be bringing is just as important as knowing how many people in your group.
With large groups just as small groups multi-drop and pick-ups from hotels is routine and if you require sightseeing we can arrange a guide whether it be an orientation tour of London or a niche interest of the group.
Putting Your Own Groups Together / Sharing
We do not put groups together for the purpose of vehicle sharing.
You are welcome to put your own group together. The key point with these charters is that the price is a flat rate for the vehicle, not per person. If somebody pulls out at the last moment the group are still liable for the full cost of the charter.
Gatwick - Luton Private Vehicle & Driver Indicative Prices*


Prices Are Inclusive Of Taxes

Vehicle

Passengers

Large Cases

Price

Booking

Car/Sedan

4

2/3

£112

MPV Car

5

4

£140

8 seat bus

8

20

£220

12 seat bus

12

20

£275

16 seat bus

16

20

£325

Large Coaches

up to 50

up to 70

p.o.a

* Prices indicated are one-way, non-stop with all passengers boarding at a single point and include all taxes with meet n greet in the passenger terminal as you exit customs at the airport.
---