Renaissance Hotel Heathrow Airport
The Heathrow Hotel Nearest Terminals 2 and 3
The Renaissance Hotel Heathrow is a large four star, five storey hotel on the northern perimeter road of the airport, (Bath Road). The Renaissance Hotel Heathrow is physically the closest hotel to the central terminals, 2 and 3, though it is not possible to walk to them.
The Renaissance Heathrow is particularly renowned for being adjacent to the main north runway with Terminal 2 and 3 directly opposite on the other side of the runway. It even does special packages for plane spotters so they can do their hobby in comfort from a hotel room.
The hotel is situated on the Bath Road, the main airport hotel strip, there are other large hotels like the Renaissance all around it and a choice of pubs, even a McDonalds if you don't want to use the facilities of the hotel.
The Renaissance Heathrow has frequent shuttles to all passenger terminals and you can use local buses free to terminals 2,3 and 5 from a bus stop outside the hotel as an alternative that run 24x7.
Renaissance Hotel Heathrow Airport Details
Number of Rooms : 643
Rooms Available : Double/Twin Rooms.
Renaissance Hotel Heathrow Airport Room Facilities :
Heathrow Airport

Transfers To/From London

Airport To Airport Transfers

Cruise Port Transfers

Transfers To The Rest Of The UK

Airport Hotels

Day Rooms & Lounges

Heathrow Hotel Transport

Heathrow Hotel Districts

Long Term Car Parking

Layovers & Sightseeing

Heathrow Airport
London Transfers
Airport To Airport
Cruise Transfers
Transfers Rest Of UK
Heathrow Hotels
Hotel Transport
Hotel Districts
Car Parking
Layovers & Sightseeing
Standard Rooms at the Renaissance Hotel have triple glazing, which makes them soundproof, air conditioning, a minibar, a queen-size bed, an en-suite bathroom with luxury toiletries, a hairdryer, a 25-inch TV with cable and satellite channels and pay movies, a clock radio, an iron and an ironing board, a trouser press, a chair, a desk, two phones with voicemail and tea and coffee-making facilities. You can choose to have a fridge instead of a minibar. You can also have a newspaper delivered to your room.
Club Rooms at the Renaissance Hotel give you access to the Club Lounge and complimentary food and drink and a sitting area plus some other frills.
Suites at the Renaissance Hotel give you access to the Club Lounge and complimentary food and drink and the living area of the suite is separated from bed by privacy wall.
Internet - Free Wifi in bedrooms and public areas
Room Service - Room service is available 24 hours a day.
Renaissance Hotel Heathrow Airport Public Facilities :
The Duo Restaurant & Bar, a branch of Starbucks, a hairdresser's, a flight information screen in the lobby, a laundry, a dry-cleaning service, 28 meeting rooms, a cash machine, a bureau de change, a safe deposit box at reception and a concierge. There is also a gift shop.
Facials and massages are on offer in the health club. The club has a sauna, a steam room, a solarium and a fully-equipped gym, which is open 24 hours a day.
Watch the action on the runway through the giant windows in the light and airy Duo restaurant, which is open for breakfast and dinner. For dinner, you can choose from the international buffet or order a la carte.
Bar food is served in the bar.
Car Parking - Last advised as £15 per night for residents.
Long term parking packages are available at extremely attractive rates.
Renaissance Hotel Heathrow Transfers To/From Passenger Terminals:
There are 4 passenger terminals at Heathrow numbered 2,3,4 and 5. The hotels at Heathrow are not allowed to run their own airport shuttle vehicles between the airport and the hotels.
Hoppa Buses - are regulated by the airport authority and run on fixed routes, each serving 2 or 3 Heathrow airport hotels. Hotels have one bus for Terminals 2 & 3, another for Terminals 4 & 5.

Free Local Buses To Passenger Terminals
If you have light luggage you can catch a number of public buses from in front of the hotel which are free to airport passenger terminals. Routes 105,111,285 or 140 public buses go from the Central Bus Station between Terminals 2 and 3 to a bus stop opposite the hotel. Ring the bell as soon as you pass the bus stop at the first hotel along, the Holiday Inn on your left.
Bus 423 runs between the Renaissance Hotel Heathrow and Terminal 5 about every 20-30 minutes and is also free.
Bus 555 runs to Terminal 4 but is one of the less frequent buses at Heathrow operating every 30-45 minutes, hourly on Sundays.
More Details of public bus alternatives to Hoppa Bus Heathrow.
---
Renaissance Hotel Heathrow Prices & Reservations
Advance Purchase Rates Plus Flexible Room Rates For All Rooms
No Deposit, Pay At Hotel, Cancel Without Penalty
Both flexible and cheaper advanced purchase rates made are normally available at the Renaissance Hotel Heathrow Airport.
Flexible rates allow cancellations up to 4 p.m. on the date of arrival without penalty but may vary on certain rates, so check. With flexible rates there is no deposit, you pay at the hotel.

Vicinity Around Renaissance Hotel Heathrow Airport:
Unlike some Heathrow hotels it is easy to 'escape' the hotel. Opposite the hotel down by the side of the Park Inn is Sovereign Food & Wine, a small convenience store which includes fruit, confectionery and wine. There is also a cash machine inside. Next door to it an Italian pizza/pasta Restaurant.
Opposite the Park Inn's front entrance is The Three Magpies Pub, which does food including steaks. About 200m along the Bath Road, east is a McDonalds in front of the Radisson Edwardian hotel.
Very frequent public buses pass the door going to neighbouring towns.
A detailed guide to the Bath Road locality around the Renaissance Hotel Hotel Heathrow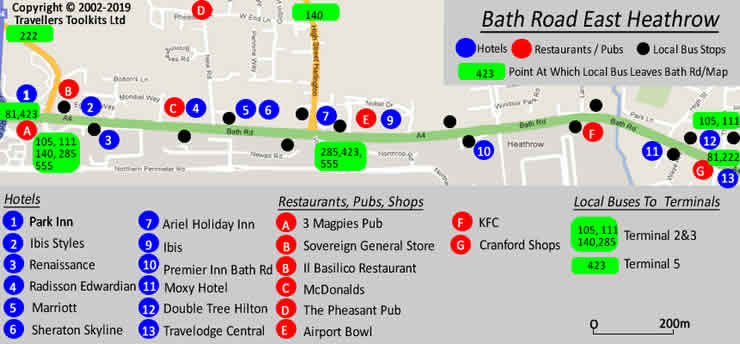 ---
Indicative Heathrow Hotel Room Rates


Sampled prices at Heathrow for early May 2016

Hotels Walkable To Terminals (Note: No Hotels Within Walking Distance Of Terminals 2 & 3)

Hotel & Link To Detail Page

Mid-Week

Week-End

£139

£119

£199

£135

Heathrow Airport Budget / 3 Star Hotels

Hotel & Link To Detail Page

Mid-Week

Week-End

Heathrow Lodge ~+#

£31

£31

£43

£34

£75

£45

£65

£46

£69

£48

£69

£53

£91

£57

£91

£57

£67

£58

£76

£72

£94

£74

£72

£75

Heathrow Airport 4 & 5 Star Full Service Hotels

Hotel & Link To Detail Page

Mid-week

Week-End

£69

£50

£92

£59

£119

£62

£119

£63

£118

£64

£105

£65

£94

£68

£118

£68

£86

£69

£99

£69

£94

£74

£144

£76

£153

£83

£85

£84

£124

£86

£156

£96

£179

£99

£134

£104

Heathrow Serviced Apartments & Studio Apartments

Hotel & Link To Detail Page

Mid-week

Week-End

£77

£61

£108

£108

~ Single Rooms + Triple Rooms # Quad Rooms
---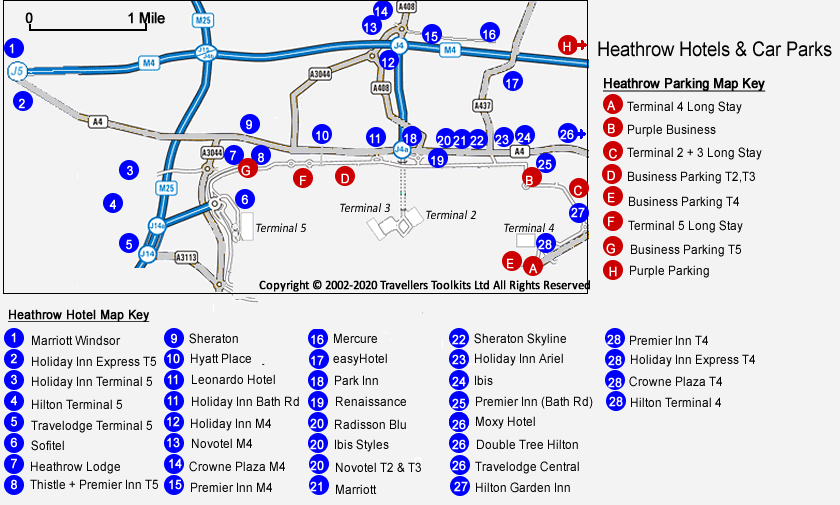 ---



---