Exclusive Discounted Day Tours From London
On-line Only Discounted Prices Tours With Premium Tours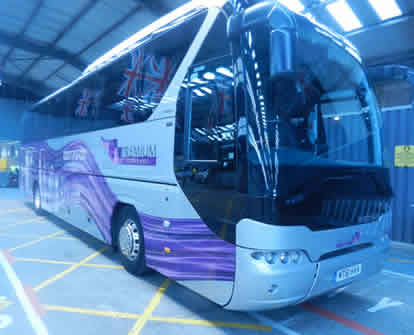 Premium Tours Tour Bus
Premium Tours are one of the major specialist tour companies operating tours from London. A full programme is operated daily throughout the year. The coaches used are top of the range and of course are comfortable and air-conditioned with specialist guides accompanying each tour.
Premium Tours try and add little extras in their tours that others do not. A cream tea here, a river cruise there for example for a similar price to other providers.
Courtesy transfer from your hotel
There is a free hotel collection from over 170 hotels in central London - more than any other sightseeing company in London. Separate coaches each cover a main Central London hotel district and transport you to Victoria Coach Station where you join the tour bus for your day tour. Full details of the hotel pick-up service are further down the page.
If you wish you can join the tour at Victoria Coach Station, which is about 600 yards from Victoria Underground and Train Station.
Days Of Operation, Duration Of Tours:
During the summer season (April to October) many tours run daily, most of the rest run at least 3 or 4 times a week. The tours run in the winter months too at lesser frequencies, there are even special tours on Christmas Day!
Days tour leaves London around 8:15 a.m. after hotel pick-ups returning to London between around 6:30 p.m. and 8:00 p.m.
---
Tours From London

Tours From London

Tours Visiting

London Hop On Sightseeing Buses

London Tours
Tours From London
Tours Visiting
London Tours
Windsor, Stonehenge & Bath Day Tour
Runs daily all year round.
The Windsor, Stonehenge and Bath day tour is the most popular day tour from London. No wonder with three world class attractions visited in one long but rewarding day.
The morning is spent visiting Windsor Castle, 'home' of the Queen of England. After a pub lunch we visit Stonehenge before arriving late afternoon at Georgian Bath, the last stop on the tour.

---
Stonehenge & Bath Day Tour
Runs daily April to October, several times a week the rest of the year.
The Stonehenge and Bath day tour is a great way to see two world class attractions at leisure in one day from London.
The morning is spent visiting iconic Stonehenge, then you spend three and a half hours in the afternoon at Georgian Bath. The tour pace of this tour is more laid back than most other day tours from London.


---
Warwick Castle, Stratford & Oxford Day Tour
The Warwick Castle, Stratford & Oxford Tour day tour takes us north west of London to a very scenic area known as the Cotswolds. This tour also has aspects for kids too. Warwick Castle is very "hands on" and Christ Church in Oxford was used extensively in the Harry Potter films.
You only catch glimpses of the Cotswold villages and countryside, perhaps another day for that, as we travel between Warwick, Stratford and Oxford. Warwick Castle is one of England's finest castle, for the kids its brought to life with displays of archery etc. Then onto Stratford Upon Avon where Shakespeare was born and died and now a living shrine to his life and works. Finally its over to the famous university city of Oxford where we enjoy a short walking tour and a visit to Oxford's most interesting college Christ Church.

---
Leeds Castle, Dover and Canterbury Day Tour With River Cruise
Runs Monday, Wednesday, Friday and Saturday between April and October. Less frequently during winter months.
The Leeds Castle, Dover, Canterbury and Greenwich day tour is a very varied tour with a lot packed into a busy day.
First stop is Leeds Castle where we are allowed access before Leeds Castle is opened to the public with our own private tour!. Leeds Castle although not the biggest castle in England is surely the prettiest with a fascinating history that stretches to modern times. Its then onto Dover where a lunch stop is taken and the famous white cliffs admired. From Dover its a short trip to Canterbury, the centre of Christian worship since it began in England. We explore the famous Cathedral and get glimpses of the medieval centre of of the city.
Last but not least we travel to Greenwich, famous for the meridian line but with a great naval and scientific heritage. We leave the touring coach for good here as after a short walking tour we take a river boat from Greenwich right into the heart of London taking around an hour. On the boat you take in many historic sights along the river, even travelling under Tower Bridge. The tour ends at Westminster Pier, right next to Big Ben.

---
Most Popular Tours From London 2013


With Adult Fares Stated & Links To Tour Detail Pages
Visiting Stonehenge and/or Bath and/or Windsor
Stonehenge & Bath (without admission to Roman Baths) - £45
Stonehenge & Bath (with admission to Roman Baths) - £55
Windsor, Bath, Lacock & Stonehenge (Max 35 people) - £89
Stonehenge Summer Solstice 2013 June 20/21
Stonehenge Special Access Tours
Visiting Cotswolds and/or Oxford and/or Stratford and/or Warwick
Visiting Canterbury, Leeds Castle & Dover
Small Group Tours (Maximum 16 people)
2 & 3 Day Weekend Breaks Plus Day Trips To Paris
Day Trip To Paris - from £149
3 Day Paris - from £229
3 Day Edinburgh & Scotland - £219
3 Day Amsterdam - from £229
---