Windsor, Stonehenge & Bath Day Tour
Small Group Tour With A Maximum Of 16 Passengers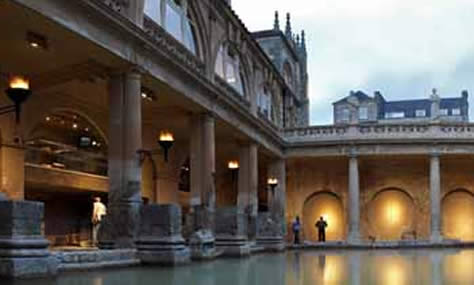 The Roman Baths at Bath
Windsor, Stonehenge & Bath Tour Included Highlights:
- Entrance to Stonehenge included - beat the queues fast track entry!
- Driving tour of the highlights of Bath
- Entrance to the Roman Baths at Bath included
- Luxury air conditioned 16 seat purpose built touring bus
- Lecture standard tour guide
Days Of Operation & Duration:
Runs daily all year round on Mondays, Wednesdays, Fridays and Saturdays.
Pickups in London between 7:20 a.m. and 8:00 a.m. March to October, one hour later in the winter months.
The tour returns to London by around 6:30 p.m.
Tour Itinerary:
The Windsor, Stonehenge and Bath day tour is the most popular day tour from London. No wonder with three world class attractions visited in one long but rewarding day.
Within the ethos of getting away from the crowds where possible we go direct to Stonehenge leaving the big bus tours behind us. After around an hour at Stonehenge its a scenic hours journey to Bath, arriving just before lunch.
After a "best of Bath" orientation tour in the bus you are led into the Roman Baths, the most popular single attraction in Bath included with the tour. Early afternoon we're off again for the longest leg of the day to Windsor arriving mid afternoon.
Admission to Windsor Castle is not included, Windsor like Bath has so many attractions we give you the choice. The admission queues for Windsor Castle have gone by the time you arrive so you can leave it up until the last moment to make your decision.
Windsor is on the edge of London, close to Heathrow Airport so its not long after leaving Windsor that you are back in London.
Tours From London

Tours From London

Tours Visiting

London Hop On Sightseeing Buses

London Tours
Tours From London
Tours Visiting
London Tours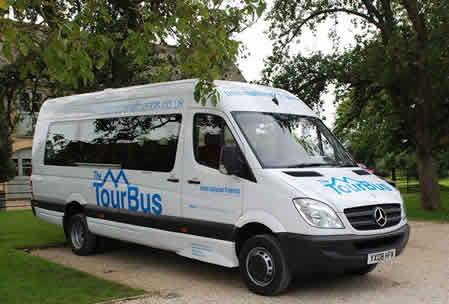 Small Group Tour Bus
The Small Group Tour Difference
On this tour you will be travelling with no more than 16 other people - guaranteed! Our purpose-built minibuses have large windows, good air circulation and clear PA systems so that your professional guide can escort you comfortably through our wonderful countryside.
The small group size means you are not subjected to long hotel pick-up journeys around London and as a small group the guide can offer a more personalised guiding service. So don't hang back, ask your questions and you'll be helping the guide tune their commentaries to the interest of the group on board that day, every group is different!
Another advantage of a small bus is we can go places the big tours cannot and wherever possible we'll head off down a country lane to to show some hidden gem.
Windsor, Stonehenge & Bath Tour - What To Expect
Stonehenge
We make our first call at Stonehenge, travelling through mysterious Wessex, arriving before the crowds in the mid-morning.
Facts and theories abound at this ancient site, why and how? Who were the builders? What was its purpose? During our guided tour we learn about the different periods of building, stretching back over 5,000 years.
We learn of the people who worshipped there, of the various ideas behind the alignments and use.
Bath
From here we head westwards to the golden limestone-clad city of Bath. People have been coming to Bath for centuries owing to the hot springs that bubble up to the surface at several locations in the city. At a constant temperature of 46.5C, the only hot springs in the country, the Romans enjoyed this place when they settled here almost 2,000 years ago, naming the resort Aqua Sulis.
The city was beautifully re-invented in the 18th century when it became the fashionable place to see and be seen. Elegant crescents, squares and terraces were built as the rich and famous travelled from London for "the season" to relieve themselves of rheumatic diseases, stiffness of the joints and gout.
This fully guided tour includes admission to the Roman Baths museum and a tour of the highlights of Georgian Bath, including the Royal Crescent, Royal Circus and the Assembly Rooms.
Windsor
Early afternoon we're on the move again to Windsor Castle, the largest and oldest occupied castle in the world.
After a guided introduction to the town itself there is time to go inside and visit the Royal apartments, see Queen Mary's dolls house and gaze upon the last resting place of Henry VIII and Charles I in St George's chapel. Lavishly furnished rooms, a wonderful gallery of world famous art and views from the battlements across the Thames valley await the visitor as we wander around inside.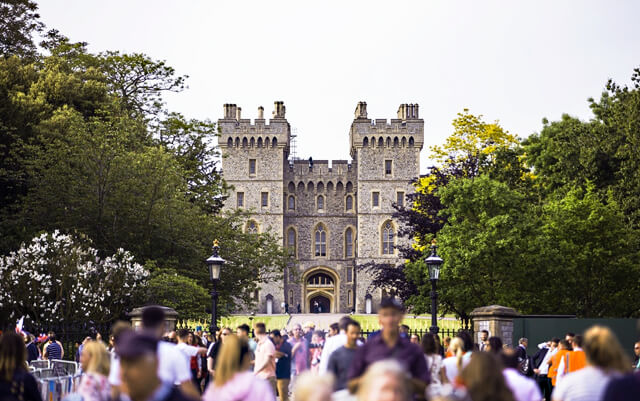 Windsor Castle
We end the day at Runnymede. Long ago this was a Saxon meeting place but more importantly, after long drawn out negotiations between the barons and King John, the place where Magna Carta was agreed upon in 1215. We can walk around this historic site and learn of the implications of this document and then in turn learn how other nations have adapted this major constitution.
It is here by the River Thames that we end the tour before our short journey back to London.
Important! - Visiting Windsor Castle
Entrance fee to Windsor Castle is not included in the tour price and this can be purchased on arrival if required. This is because we always arrive when the Castle is less busy and we find that not all visitors want to go inside the castle.
The tour operates on days when there may be restrictions for visitors to Windsor Castle. If entering Windsor Castle is important to you do check such dates when you click through the booking banner below
Prices & Tour Reservations
Prices displayed on the banner link are the current prices for this tour. Sometimes on special occasions there may be slight changes to the tour, dates or price so do check on the booking page linked below. Major credit and debit cards are accepted. You will be emailed a confirmation with a booking reference after reservation. The booking reference and the name of the person ordering is all that you need to quote when joining the tour, there are no paper tickets.
On the tour detail page from the link below, there is a date drop-down at the top right of the page, which depicts which dates still have availability. By selecting your required date you start the reservation process. One we list a date for operation it is guaranteed to run, there are no minimum numbers.
Departure Details
The tour makes several pick-ups at key strategic locations through major hotel districts in London
Summer (March to October) pick up points (add one hour to times between November & February).
7:20 a.m. - Great Russell Street, outside British Museum main entrance (nearest Underground Russell Square)

7:30 a.m. - International Students House Car Park, 229 Great Portland Street, W1W 5PN (nearest Underground Great Portland Street / Regents Park)

7:40 a.m. - Outside Cumberland Hotel, Marble Arch (nearest Underground Marble Arch)

7:50 a.m. - Outside main entrance to Zara Fashion, 79 Brompton Road, SW3 1DB. (next to Harrods, nearest Underground Knightsbridge )

8:00 a.m. - Outside Premier Inn, Knaresborough Place, Earls Court (nearest Underground Earls Court)
If you require assistance on finding the most convenient joining point please use the "Contact Us" menu option at the top of the page and we will answer you personally in short order.
---
---