Gatwick Airport Express Trains to London Victoria
Quickest Most Hassle Free Transfer From Gatwick Airport to Central London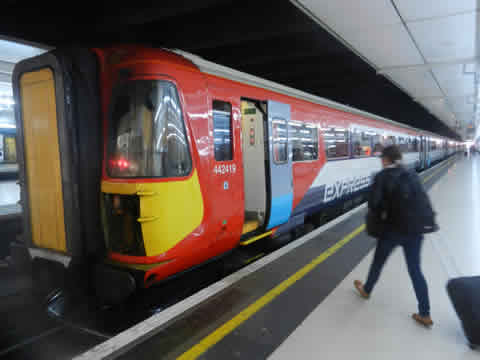 Gatwick Express Train At London Victoria Station
The Gatwick Express is a dedicated rail express link into Central London's Victoria station. London in 30 minutes, every 15 minutes is what's on offer for the 30 miles into London.
Gatwick Express is the fastest way between London Gatwick Airport and central London. Running non-stop between London Victoria station and London Gatwick Airport this dedicated airport train is both speedy and frequent.
Trains depart every 15 minutes daily with a gap in service between around midnight and 4 a.m.
The Gatwick Express is much faster than a taxi into London while at the same time being much cheaper and much more comfortable than a taxi. Luggage is only limited by what you can carry.
Logistics Of Using The Gatwick Express
At Gatwick Airport the train station is integrated into the South Terminal of the airport. From exiting customs into Gatwick Station is about 100 yards.
If you are flying into the North Terminal a free monorail link shuttles between the North and South terminals every few minutes and is free of charge. At the South Terminal its terminus is adjacent to the train station.
If you are flying into the North Terminal a free monorail link shuttles between the North and South terminals every few minutes and is free of charge. At the South Terminal its terminus is adjacent to the train station.
Gatwick Express do provide a free porterage service at both Gatwick and Victoria though it is unusual to actually see it being used. Invariably you board the train carrying your own luggage with you and find a seat on a first come first served basis. There are no reserved seats, its a grab a seat that is available when you board arrangement.
There are dedicated luggage racks within the passenger cabin and a small parcel shelf above you. There are also aircraft style washrooms.
Carriages are air conditioned and a refreshment trolley comes to you during the journey.
Gatwick Airport

Transfers To/From London

Airport to Airport Transfers

Cruise Port Transfers

Transfers To The Rest Of The UK

Airport Hotels

Day Rooms & Lounges

Gatwick Hotel Districts

Long Term Car Parking
Gatwick Airport
London Transfers
Airport To Airport
Cruise Transfers
Transfers Rest Of UK
Gatwick Hotels
Hotel Districts
Car Parking
Victoria Station is a major transport hub in Central London, close to many of the major sights. Buckingham Palace is only 5 minutes walk, Westminster Abbey and Big Ben ten. A couple of the major west End theatres are opposite Victoria Station.
It is also a major hotel district with accommodation for all budgets. If you are flying into and out of Gatwick then Victoria is a good place to benchmark your accommodation needs against.
At Victoria Station there is a small visitors centre and the London Underground station is beneath the railway station.
Gatwick Express - The Difference Between 1st and 2nd Class
1st Class Carriage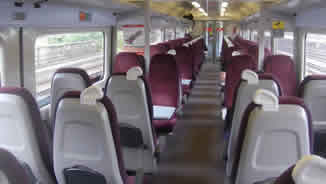 2nd Class Carriage
On every Gatwick Express train there is a first class carriage, normally in the centre of the train.
The main benefit you get from travelling first class is much more room. Compare the images above and on the video clip link further up the page. It should be said that 2nd class carriages are not uncomfortable and are more comfortable than the alternative commuter trains which are often standing room only and often have five abreast seating without any luggage racks.
The other big bonus with first class is complementary access to one of the airport lounges at Gatwick Airport
In first class you also get complementary coffee. tea or water when the refreshment trolley comes around and a newspaper subject to availability.
Gatwick Express Timetables
The Gatwick Express runs every day of the year except Christmas Day at 15 minute intervals.
There is a gap in service from about midnight to 4 a.m. precise timetables on the link below.
Gatwick Express Ticketing & Discounts
You can buy tickets on the day at dedicated Gatwick Express ticket offices at both Gatwick and Victoria railway stations. All major credit cards are taken. However if you buy on-line you avoid any queues and fares are cheaper than on the day.
There are no reserved seats on the Gatwick Express. There is always a train on the platform waiting for you to board at both Gatwick and Victoria.
Return tickets are valid for one month.
Purchasing Gatwick Express tickets on-line is always cheaper - you can either print out the ticket sent to you by email, have it sent to your mobile or pick the ticket from a machine at the station.
Gatwick Express Fares 2013 (Children* Half Price)

Tickets can be purchased
on-line or at the station.

On-Line

At Station

First Class - One Way

£25.80

£29.00

First Class - Return †

£56.00

£56.00

Standard - One Way

£17.75

£19.90

Standard - Return †

£31.05

£34.90

* Child Fares (half price of adult fares) apply to 5 - 15 years olds only. Under 5's travel FREE.

† Return travel must be made within 30 days of the outward journey on return tickets

Small Group Discounts - 4 Travel For Price of 2 ...
Save up to 50% discount with a group ticket offer between Gatwick Airport and London Victoria. Groups of 4 or 3 people can travel for the price of just 2 people. There must be at least 2 paying adults if children (5-15 years) are included in this offer.
There is also a 5 for 3 ticket option, in case you are travelling in a group of 5 (on the basis of 3 adults paying).
These group offers are NOT available to purchase onboard the train.
Railcards
You can use Railcard discounts on the Gatwick Express
---
London - Gatwick Airport Comparison of Fares


Service

Standard Adult Fare*

One-Way

Return

£2-£10

£4-£20

£6.50†

£13.00†

£7.50/£14.40~

£15.00/£28.80~

£10.00

£19.00

£17.75

£31.05

£19.90

£34.90

£84

£168

£230

£460

* Standard adult ticket. Other promotional fares may appear from time to time.

† On-line fare. £1 Booking Fee.

~ Cheapest Off Peak or Advance Purchase Fare/Anytime fares
---
---
2 For 1 Sightseeing Promotion
Return tickets on the Gatwick Express qualifies you for the 2 for1 admission voucher promotion to many of London's top attractions, a little publicised scheme that has to be one of the biggest bargains available for visitors to London.
The scheme is supported by many, if not most of the major London attractions as well as many you won't have heard of. Perennial supporters of the scheme have been the Tower of London. Madame Tussaud's, London Zoo, Kensington Palace, Churchill War Rooms and the London Dungeon. Others like the London Eye have drifted in and out of the scheme.
2 For 1 Sightseeing Promotion - More Details
Victoria As A Place For Your Accommodation In London
Victoria has a central location n London and is a major hotel district with all grades of accommodation. Victoria is major transport hub and a great base for sightseeing. Not the cheapest, but not the most expensive district to stay. Cheaper during working week. If you are flying into Gatwick, the district is a benchmark to beat.
Victoria commands a central location on the fringes of the West End, ( it has two West End theatres). Residents include J.K.Rowling and Google, and of course the Queen has a pad here at Buckingham Palace..
The full breadth of accommodation from cheap and nasty to top of the range. You pay a premium to districts like Kensington and Paddington but much less than West End. Room rates are volatile, but the working week is normally cheaper than at the weekend. Peak weekend months the whole area can be sold out.
Victoria is a major transport hub both for within London and far afield. Many tours start from Victoria, especially day tours out of London. If you are flying into Gatwick this should be one of the districts you check out. Airport buses run to all 4 major London airports and there are direct trains to Gatwick and Dover cruise and ferry port. London's only long distance bus station is at Victoria.
Victoria - What Is The District Like?
---