Transport Between Gatwick Airport And London
Make An Informed Decision On Your Transport Between Gatwick Airport & London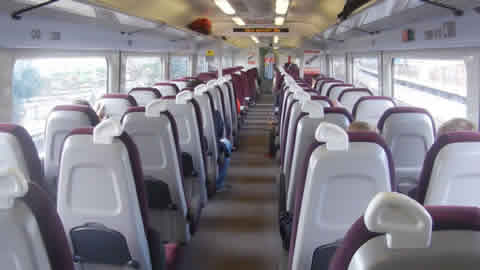 Aboard The Gatwick Express Train
Author: Bob Handford
Gatwick Airport is about 28 miles (45 kms) south of the centre of London. There is wide range of rail and bus transport options for passengers using London Gatwick Airport. Rail options predominate though with the train station at Gatwick embedded within the South Terminal.
The roads between Gatwick and Central London are not motorway/freeway standard but wind through suburbia with traffic lights making for a tedious stop, start journey. Road transfers are really for groups and those where lowest cost is the overriding factor using the bus services available. Rail is at least twice as fast as transfers by any road vehicle.
To make an informed decision on which option is best for you, you first need to be sure of where exactly in London your destination or departure point is. London is a very spread out city, and just knowing where your London accommodation is will probably rule out a few of the options on offer. Seems obvious but you would be surprised how many people don't know whereabouts in London their accommodation is when deciding on the best transfer option for them.
There is no universal single best way to travel between Gatwick and London, there is the cheapest, fastest etc, but no best option for everyone.
Gatwick Airport To/From Central London - Your Options
Gatwick Airport

Transfers To/From London

Airport to Airport Transfers

Cruise Port Transfers

Transfers To The Rest Of The UK

Airport Hotels

Day Rooms & Lounges

Gatwick Hotel Districts

Long Term Car Parking
Gatwick Airport
London Transfers
Airport To Airport
Cruise Transfers
Transfers Rest Of UK
Gatwick Hotels
Hotel Districts
Car Parking
Shared Hotel Shuttle Vans Between Gatwick & London
Unlike many countries there is currently no shared 'supershuttle' style minibus operation to hotels we would like to put up here. Every now and again somebody tries but operations have come and gone in the last few years, entrants seem unable to compete with the public transport alternatives.
---
London - Gatwick Airport Comparison of Fares


Service

Standard Adult Fare*

One-Way

Return

£2-£10

£4-£20

£6.50†

£13.00†

£7.50/£14.40~

£15.00/£28.80~

£10.00

£19.00

£17.75

£31.05

£19.90

£34.90

£84

£168

£230

£460

* Standard adult ticket. Other promotional fares may appear from time to time.

† On-line fare. £1 Booking Fee.

~ Cheapest Off Peak or Advance Purchase Fare/Anytime fares
---
---
Victoria As A Place For Your Accommodation In London
Victoria has a central location n London and is a major hotel district with all grades of accommodation. Victoria is major transport hub and a great base for sightseeing. Not the cheapest, but not the most expensive district to stay. Cheaper during working week. If you are flying into Gatwick, the district is a benchmark to beat.
Victoria commands a central location on the fringes of the West End, ( it has two West End theatres). Residents include J.K.Rowling and Google, and of course the Queen has a pad here at Buckingham Palace..
The full breadth of accommodation from cheap and nasty to top of the range. You pay a premium to districts like Kensington and Paddington but much less than West End. Room rates are volatile, but the working week is normally cheaper than at the weekend. Peak weekend months the whole area can be sold out.
Victoria is a major transport hub both for within London and far afield. Many tours start from Victoria, especially day tours out of London. If you are flying into Gatwick this should be one of the districts you check out. Airport buses run to all 4 major London airports and there are direct trains to Gatwick and Dover cruise and ferry port. London's only long distance bus station is at Victoria.
Victoria - What Is The District Like?
---