Big Bus, Original London, Routemaster or Harrods
A Comparison Of London's Hop On Hop Off & Classic Vintage Sightseeing Buses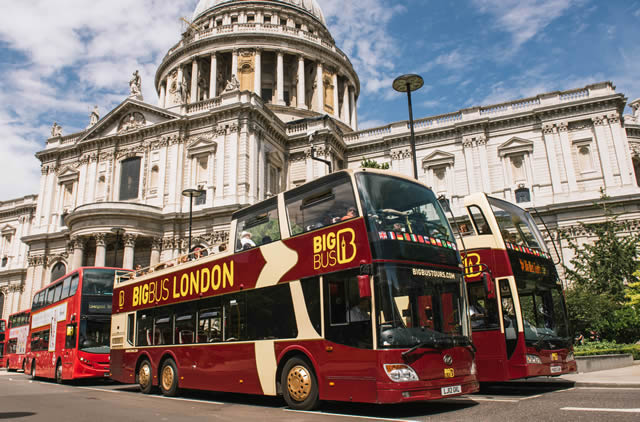 Big Bus Hop On Hop Off Sightseeing Bus
During your visit to London, one of the recurring sights are the hop on, hop off tour buses. Especially in the summer months there seems to be one coming along every couple of minutes, each jam packed with visitors.
Their obvious popularity speaks volumes for the convenience of the concept. These buses are a simple way for visitors to get orientated on your first day and visit all the main tourist attractions.
If you're staying more than a couple of days then you should be confident enough after getting an orientation with the HoHo buses to get around independently using London's excellent public transport, much more flexible and longer operating hours than the HoHo buses.
High Frequency Hop on Hop Off Sightseeing Buses
There are two major operators of the standard HOHO buses, the Original London Tour and Big Bus.
Each of these offer a very similar product, with little to choose between them. Both offer high frequency core routes covering all the major tourist destinations with a few less frequent feeder routes. Both offer a river cruise, the same one. You buy a ticket covering unlimited rides for a 24 hour period.
Vintage Classic Bus Sightseeing Buses
There are also two classic vintage bus operators. These are not as high frequency as the standard HoHo buses and are really offering a tour of all the main sights of London in one day.
Unlike the HoHo buses hotel pickups are included and the tours have innovative bundles and combo's coupling the bus tour with things like Afternoon teas at Harrods, or visits to Stonehenge, Tower of London, The London Eye etc.
The open top London routemaster double decker tour is a classic red routemaster bus restored.
The vintage classic Harrods bus tour is a classic bus departing hourly from the world famous department store. It covers all the major tourist spots with time for photos and optionally you can choose to take lunch or the classic traditional English afternoon tea in Harrods itself.
Hop on, Hop Off & Vintage Bus Sightseeing Tours Compared

High Frequency Hop On Hop Off Sightseeing Buses
Original London Tour
£22.50*
Tickets valid for 24 hour period. Unlimited rides.
High frequency buses between around 08:30 and 18:00
Access to Thames river cruise.
Big Bus
£23.40*

---

Vintage Classic Sightseeing Buses
Open Top Red Bus
£24.65*
Hotel pickups. Bus + river tour with bundles including visits to Tower of London, Stonehenge, London Eye ...
Harrods
£20.00*
Full guided tour of major sights in London. Opportunity for afternoon tea or lunch in Harrods
* on-line discounted price
Hop On Hop Off Operating Times & Frequencies
The Original Tour's two main sightseeing tours operate between 08:30 and 17:30 to 18:00 with frequencies between 5 and 15 minutes depending on season.
The Museum Link service operates similar times but is less frequent, every 30 minutes.
The Big Bus also has two main sightseeing tours operate between 08:30 and 18:00 (16:30 in Winter) with frequencies between 5 and 20 minutes depending on season.
The Museum/Connector is very similar to the Original London Tour's Museum LInk service and is also less frequent than the main services, every 30 minutes.
Hop On Hop Off Buses Routes & Coverage (Including Hotel Districts)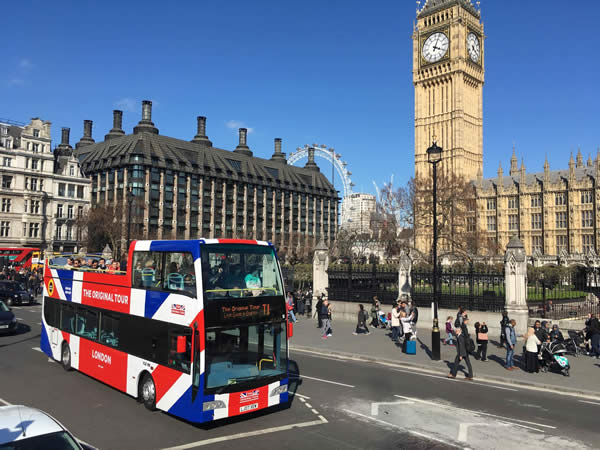 Original London Tour Bus
Both the Original London Tour and Big Bus Tour have two main sightseeing routes that cover all the main sights in Central London and largely duplicate themselves in terms of places visited.
Both have a 'lesser' route that services the British Museum.
The Big Bus just has a very short feeder route called the Green Link that shuttles between Trafalgar Square and the British Museum/Bloomsbury.
The Original Tour has a Museum Tour equivalent that is much longer and carries on from the Trafalgar Square/Piccadilly Circus area out to the South Kensington Museums and Knightsbridge, (for Harrods).
The Big Bus still goes to South Kensington and Knightsbridge but is served by one of their mainstream sightseeing routes (the blue route).
The big difference for coverage is if you have your hotel accommodation in the Gloucester Road or Kensington High Street area of Kensington or the Paddington/Bayswater area. The Big Bus Blue route, one of its main sightseeing routes visits these whilst the Original London Tour doesn't.
Hop On Hop Off Buses Guiding & Commentary
Both the Original London Tour and Big Bus Tour have a main sightseeing route with live commentary in English. This is the Yellow Tour for Original London Tour and the Red Tour for Big Bus.
On the other main sightseeing route both companies use recorded commentary in many languages.
The Original London Tour has English, French, Spanish, Italian, Russian, German and Japanese.
Big Bus has English, French, German, Italian, Spanish, Portuguese, Japanese and Russian commentaries.
The Original London Tour also has a special commentary loop aimed at kids, (in English).
Hop On Hop Off Vehicles
Both companies use very similar buses.
Hop On Hop Off Buses Free Walking Tours & River Cruises
Both companies offer walking tours and river cruises included in the ticket. Both offer three walking tours spread through the day which have almost identical themes.
The river cruise is identical, both companies outsource this component to the same company.
Other Hop On Hop Off Buses Extras
Both companies will sell you tickets to some of the attractions along the way, (the list is not extensive but is slightly different between companies).
The Original London Tour has a 'kids club'. Every child gets a 'passport' to London and a free fun pack with activity/quiz book. A commentary specially designed for children is available on the red route.
Big Bus offers a 'Big Bus Bonus Card' with a very limited range of discounts and extras at restaurants.
---