Visiting Stonehenge - What To Expect
A Practical Guide To Your Visit to Stonehenge
The world famous Stonehenge is situated around 90 miles west from Central London and is well within a comfortable day trip.
The nearest town with good public transport and facilities is Salisbury, a medieval cathedral city. Worth a visit in its own right. About 24 miles north of Stonehenge is Avebury, another World Heritage Site with even larger stone rings to Stonehenge and unlike Stonehenge with free access to the stones themselves.
Getting To Stonehenge From London
From a central London hotel its just under two hours one way to Stonehenge by vehicle. Most visitors stay at Stonehenge around one hour.
Stonehenge can be visited independently using public transport but overall this will not be much if any cheaper than taking a tour.
We have a detailed page on getting to Stonehenge by public transport from London via Salisbury.
The easiest way to get to Stonehenge is by guided tour. Your problem here will be the vast choice available that run from London daily. What is more, visiting by guided tour is no more expensive than travelling independently.
We guide you through the tours available on our Stonehenge Tours page.
Stonehenge Entrance Prices & Opening Times
Sightseeing From London

Destinations Within 2 Hours

Tours From London

Tours From London Visiting
Sightseeing
From London
Within 2 Hours
Tours From London
Tours Visiting
You do not have to purchase tickets in advance at Stonehenge.
At the ticket office pictured above they take cash and major credit cards
You will seldom wait more than 5 minutes from arrival to entry.
You can actually see Stonehenge from the road about 100 yards from the monument without paying admission. Viewing is through a high wire mesh fence though.
Members of the National Trust & English Heritage enter free and there are various other heritage passes that may include admission to Stonehenge.
10% discount for groups of 11 or more visitors paying together plus a free place for every additional 20 paying passengers. Free entry for coach driver and tour leader.
At peak times only during the Summer the Stonehenge people impose a parking charge refundable on admission to Stonehenge.
National Trust and English Heritage members do not pay this.
Last advised parking charge is £3, (£10 for buses).
Stonehenge - Full Details Of Charges And Inclusions
Stonehenge Admission & Opening From April 2013

Admission

Opening Times

Adult

£8.00

29 Mar - 30 May

09.30 - 18:00

Child (5-15)

£4.80

1 Jun - 31 Aug

09.00 - 19:00

Students/Seniors *

£7.20

1 Sep - 15 Oct

09.30 - 18:00

Family Ticket †

£20.80

16 Oct - 28 Mar~

09.30 - 16:00

Members of the National Trust & English Heritage enter free

* Students with official student card and seniors over 60

† 2 Adults and 3 Children

~ Closed 24th to 26th and 31st December
Stonehenge Explained - A Pre Visit Briefing
There is no doubting that a significant number of people approach Stonehenge, stop, shrug their shoulders and move on wondering what all the fuss is about. We would suggest that if you just turn up 'cold' at Stonehenge waiting to be entertained you too may become one of these people, you really need to go to Stonehenge full of anticipation about what you are going to see and experience.
Our What is Stonehenge? page lays out details about when Stonehenge was built, by who and what they built.
More intriguingly we follow this by discussing all the mysteries and theories about Stonehenge. Nobody knows for sure why Stonehenge was built nor how and when, its a whole industry providing you with often conflicting 'facts'.
We try and lay out the main strands addressing what Stonehenge was used for plus all the other associated mysteries on our Stonehenge Mysteries page.
Special Access Visits
During normal opening hours you cannot walk up to the stones themselves.
The nearest you will get to the stones is about 10 yards, the monument being roped off by a low barrier, (see picture below).
However it is possible to walk up to and among the stones at Stonehenge outside public opening hours. These are called Special Access visits. During these sessions of one hour duration, only 26 people are allowed onto Stonehenge going beyond the barriers and walking amongst the stones.
The fact that these Stonehenge Special Access visits are outside public opening hours mean that they are at dawn or evening. Given that London is 2 hours drive from London this obviously provides logistical issues in getting there.
The Special Access Visits are also immensely popular, demand far outstrips supply and they are often sold out months in advance.
We have dedicated pages for people independently wanting to partake in a Stonehenge Special Access Visit and also a page on scheduled Stonehenge Special Access Tours From London.
Image Depicting How Close You Can Get To Stones At Stonehenge During Public Opening Hours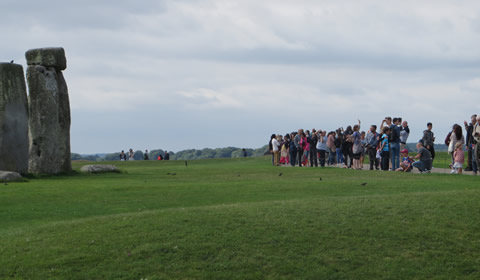 ---
---
---

---