Weekend 3 Day Short Break By Rail To Scotland
Accommodation & Guiding In Edinburgh, Freestyle or Highland Tour Options
Weekend 3 Day Short Break By Rail To Scotland Tour Included Highlights:
- Return travel in standard class from London Euston to Edinburgh by train
- A two hour professionally guided tour of Edinburgh
- Two nights at a traditional Scottish Guest house/hotel accommodation in central Edinburgh with breakfast (with upgrade options)
- Services of Tour Manager for entire duration of the tour
- Optional Loch Ness & Highlands Tour
Days Of Operation & Duration:
Departures all year departing every Friday early morning on a 6:43 a.m. train from Euston Station returning to London Sunday scheduled to arrive back by 9 p.m.
Over Easter an extended 4 day tour is run.
Note: Easter and May Bank Holiday weekend tours will depart from London Kings Cross station.
Tour Itinerary:
This short break tour gives you the chance to see Scotland's capital and even the Scottish Highlands and Loch Ness - all in a weekend.
Tours From London

Touring From London

Tours Visiting

London Hop On Sightseeing Buses

London Tours

Tour From London
Tours Visiting
London Tours
The basic tour includes a good orientation tour of Edinburgh, the rest of the time is yours to choose exactly what you want to see at the pace you want to see it, based in Edinburgh.
<!-scotland_bagpipes.jpg-->
On the second of the three days you can choose to take a full day optional tour of the Scottish Highlands including Loch Ness or you can choose to just spend your time in Edinburgh, freestyle doing whatever you want to do.
Day 1
We travel north from London by comfortable train with reserved seating. A journey of just over five hours means you can have breakfast in England and lunch in Scotland. 
Once we have left the train our guide will transfer us to the coach for an eye opening informative tour of Scotland's capital city.
We will head to the Royal Mile that links the Palace of Holyrood House with the ancient castle on top of an extinct volcano. We will see the High Kirk of St Giles (the cathedral), the old Parliament Square and the Castle Esplanade. At the foot of this famous street we will stand outside Holyrood House and learn of Scottish Royalty, of King David, Robert the Bruce and Mary Queen of Scots.
We journey from the Old Town towards the New Town and climb Calton Hill to see the National Monument and admire the view towards Arthur's Seat, a 250m high rocky crag that lies within the whole city. We will learn of Scotland's writers, Robbie Burns, Sir Walter Scott and Robert Louis Stevenson, view their memorials and see where they lived.
Afterwards we drive through the elegant squares and terraces of the New Town we transfer you to your nearby accommodation and a chance to have a late lunch and explore some of the excellent free museums your guide will have talked about on the tour.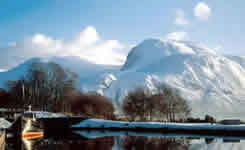 Scottish Highlands
Day 2:
If you have chosen our upgrade option to the Scottish Highlands and Loch Ness prepare to see some amazing scenery. We operate a full day out into Scotland's wild and rugged landscape leaving city life far behind as we head into the mountains and moors.
Full details of this tour are on the tour detail and booking page linked from the price banner at the foot of this page.
Day 3:
There is plenty of free time on the final day until your coach transfer from the hotel to the train in the afternoon.
There will be time to walk the Royal Mile, visit one of the many museums and galleries in Edinburgh, enter Edinburgh Castle or the Palace of Holyrood House, enjoy some whisky tasting for lunch or shopping on Princes Street.
Full details of this tour are on the tour detail and booking page linked from the price banner at the foot of this page.
The train departs Edinburgh at 2:50 p.m. and is due back at Euston at just after 8:30 p.m.
Note: Easter and May Bank Holiday weekend tours will depart from London Kings Cross station.
Your Hotel Accommodation - A Choice Of Options
There are various grades of accommodation on offer to suit your pocket.
The standard package uses a guest house in rooms with private shower, toilet, television and tea/coffee making facilities.
There are upgrade options or you can ask for a quotation at a 3 or 4 star property.
Edinburgh is a very seasonal destination, during the peak summer months, the best deal accommodation is soon sold out.
Prices & Tour Reservations
Prices displayed on the banner link are the current prices for this tour. Sometimes on special occasions there may be slight changes to the tour, dates or price so do check on the booking page linked below. Extra dates are often put on around long holiday weekends, notably Easter and New Year.
Major credit and debit cards are accepted. You will be emailed a confirmation with a booking reference after reservation. The booking reference and the name of the person ordering is all that you need to quote when joining the tour, there are no paper tickets.
On the tour detail page from the link below, there is a date drop-down at the top right of the page, which depicts which dates still have availability. By selecting your required date you start the reservation process. One we list a date for operation it is guaranteed to run, there are no minimum numbers.

---
---
Most Popular Public Tours From London 2015/2016


With Adult Fares Stated & Links To Tour Detail Pages
Visiting Stonehenge and/or Bath and/or Windsor
Windsor, Bath & Stonehenge (inc Lunch, no adm Roman Baths) - £76
Windsor, Bath & Stonehenge (no Lunch, all 3 admissions - Apr-Oct only) - £79
Stonehenge & Bath (Stonehenge admission only) - 3.5 hrs in Bath - £47
Stonehenge & Bath (Stonehenge & Baths adm) - 3.5 hrs in Bath - £57
Stonehenge & Avebury - £65
Salisbury, Lacock & Bath - £89
Visiting Cotswolds and/or Oxford and/or Stratford and/or Warwick
Blenheim Palace, Downton Abbey Village & Cotswolds Tour - £74
Visiting Canterbury, Leeds Castle & Dover
Leeds Castle, Dover & Canterbury (Small Group Apr - Oct) - £119
Special Theme Tours
Small Group Tours (Maximum 16 people)
Lacock, Bath & Stonehenge - £119
1,2 & 3 Day Breaks To Paris, Scotland & Amsterdam
Day Trip To Paris - from £149
3 Day Paris - from £249
3 Day Edinburgh & Scotland - from £239
3 Day Amsterdam - from £239
---

---