Stonehenge Special Access Visits
Walk Among The Stones At Stonehenge Without The Crowds
Sightseeing From London

Destinations Within 2 Hours

Tours From London

Tours From London Visiting
Sightseeing
From London
Within 2 Hours
Tours From London
Tours Visiting
When you visit Stonehenge during public hours you have to keep behind a small rope fence about two foot off the ground, (see image below). For most people this is perfectly adequate and has the advantage no people get into your photographs.
For those who are really, really interested in Stonehenge it is possible to go beyond the rope fence and walk among the stones.
These visits are called Special Access visits and take place outside public opening hours. This is the only time you will be able to walk amongst the stones at Stonehenge.
Image Depicting How Close You Can Get To Stones At Stonehenge During Public Opening Hours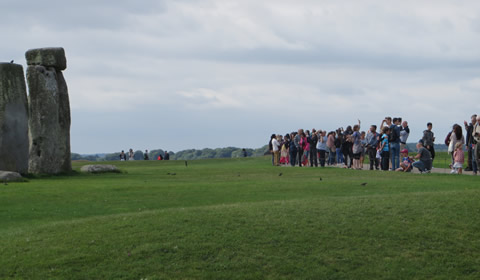 Stonehenge Special Access Visits - Key Facts
- Special Access visits are available most but not all months of the year, (no visits in October and November and are not available on and around the midsummer's day). Evening Special Access is only available in the summer months.
- Demand for tickets far exceeds supply, dates are often sold out months in advance. Do not expect to get tickets without ordering well in advance.
- Special access visits take place at quite unsociable hours, commonly between 05:30 and 08:00 in the morning and after 18:30 in the evening.
- Factor in that its almost 2 hours travelling time between London hotels and Stonehenge and you can see such a visit entails a very early start or late finish for those based In London.
- There are no audio guides available and the gift shop and catering outlet are also closed. Only the toilets are open. There is nobody there to tell you anything about Stonehenge and no information is provided - though you can preorder a glossy guide book on ordering your tickets.
On morning visits you can wait a little until Stonehenge opens for the public when the gift shop, refreshment kiosk are open and audio guides become available.
- The only people there apart from a maximum of 26 Special Access ticket holders are a few security guards who will not provide any information about Stonehenge. They are just there to make sure you get up to no mischief.
- Although you can walk around the stones, the security guard will brief you not to touch the stones. There are no restrictions on photography. You are not allowed to bring food or drink onto the monument.
Scheduled Special Access Tours From London
Three London based tour companies offer tours that include Special Access. This overcomes the logistical problems of getting to Stonehenge early morning or evening when there is no public transport to Stonehenge.
However, its still a very early start or a late return to London and these companies cannot get enough tickets for their needs. As a result dates are very sporadic. Most days there will not be a tour running and they will normally sell out well in advance on those days the tour runs - don't leave it until you arrive in London or you will be disappointed. Its not a matter of picking and choosing between operators and tours its a matter of grabbing any Special Access tours that may be available.
Stonehenge Special Access Tours From London - More Details
Scheduled Special Access Tours From Salisbury
Regular Special Access tours are also run from Salisbury. From London it is possible to use public transport to and from Salisbury by train the same day for these evening special access tours.
Stonehenge Special Access Tours From Salisbury - More Details
---
Stonehenge Special Access Tour Dates 2015

Morning

Premium Tours

Evan Evans

Andersons

Aug

17,20,27

1,,8,15,22

14,28

Sep

n/a

n/a

4,7,18

No Special Access in October or November

Premium Tours Special Access Tours - More Details

Evan Evans Special Access Tours - More Details

Evening

Premium Tours

Evan Evans

Andersons

Aug

30

28,31

10,24

Sep

n/a

11,14

n/a

No Special Access in October or November

Premium Tours Special Access Tours - More Details

Evan Evans Special Access Tours - More Details

Stonehenge Special Access Tours From Salisbury

Aug

8,13,15,20,22

Sep

5

No Special Access in October or November
Special Access Independently
You can apply to English Heritage directly for tickets - indeed most tickets are sold in this way. The procedure is you download a form from the English Heritage web site and make an application for an allocation of tickets, citing desired dates and times.
If you are successful in being offered an allocation of tickets, you can then purchase the tickets.
Stonehenge Special Access Application Forms & Current Availability
Special Access For Groups
If there are eight or more of you there is a group rate you can take advantage off. If its an educational visit this seems to get some favour in getting an offer of tickets - though you'll still need to apply months in advance. Use the link above to make the reservation.
If there is a group of you it makes sense to charter your own bus with a driver guide, (see below)
Chartering Your Own Vehicle With Driver/Guide
We can offer a suitable vehicle with experienced driver /guide. This can be from anything from a car to a small bus depending on your group size.
We cannot get the tickets for you though, you will have to apply like everyone else through the link above. We will provide a quote for a suitable vehicle and guide for your party using the form at the foot of this page.
Guides will tailor their commentary to the level of the group and are fully capable of taking educational parties who want to spend the whole day looking at Neolithic sites in the area, if that is what you require.
On such trips its a full 2 hours from London and back to London, so it makes sense to visit at least one other place. We would recommend where possible to take the evening Special Access slots and precede the Stonehenge highlight with a visit to Avebury, about 20 miles north of Stonehenge.
---
---