Exclusive Discounted Day Tours From London
On-line Only Discounted Prices Tours With Premium Tours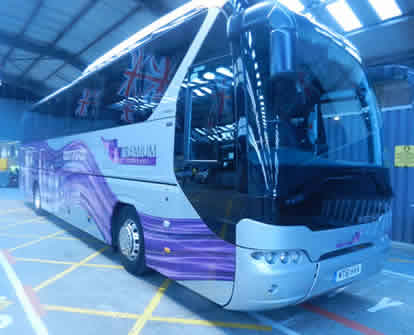 Premium Tours Tour Bus
Premium Tours are one of the major specialist tour companies operating tours from London.
A full programme is operated daily throughout the year. The coaches used are top of the range and of course are comfortable and air-conditioned with specialist guides accompanying each tour.
Premium Tours try and add little extras in their tours that others do not. A cream tea here, a river cruise there, for example, for a similar price to other providers.
London Toolkit Exclusive On-Line Prices With Premium Tours
We have negotiated with Premium Tours some exclusive prices on some of the most popular day tours from London.
These prices are only available on-line in advance from our special web pages.
You are booking direct with Premium Tours, exactly the same tour as if you purchased through other channels, just cheaper.
Windsor, Stonehenge & Bath Tours
Runs daily all year round.
The Windsor, Stonehenge and Bath day tour is the most popular day tour from London, no wonder with three world class attractions visited in one long but rewarding day!
There is a choice of two Windsor, Stonehenge & Bath tours - both deep discounted.
Both are busy tours and with so much to fill into one day. Two separate tours enable a slightly different emphasis for you to choose from.
Tours From London

Touring From London

Tours Visiting

London Hop On Sightseeing Buses

London Tours
Tour From London
Tours Visiting
London Tours
Here is a summary of the main differences:
Windsor, Stonehenge & Bath (without lunch) - Tour 1
Windsor, Stonehenge & Bath (with lunch) - Tour 79
- Windsor and Stonehenge admission included in both tour 1 and 79.
- Roman Baths at Bath entrance included in tour 1 (1st April to October 31st), but not tour 79.
- 1 course lunch in a medieval pub at Lacock included in tour 79 but not tour 1
- 1 course lunch at Bath included in tour 1 during winter months (November to March) instead of Roman Baths
- The time not taken having lunch in tour 79, means tour 1 spends more time in Bath
---
Stonehenge & Bath Day Tours from London
Runs daily April to October, several times a week the rest of the year.
The Stonehenge and Bath day tour is a great way to see two world class attractions at leisure in one day from London.
The morning is spent visiting iconic Stonehenge, then you spend three and a half hours in the afternoon at Georgian Bath. The tour pace of this tour is more laid back than most other day tours from London.
There are three variants of the Stonehenge and Bath tour.
The basic tour option does not include any entrances at Bath, just Stonehenge and consequently is a little cheaper than other options.
There is plenty to do in Bath without visiting the Roman Baths, such as Bath Abbey, Pulteney Bridge - modelled on the Ponte Vecchio in Florence - or just admiring the many Georgian buildings, such as the Assembly Rooms and Royal Crescent. With over three hours to spend at your leisure in Bath, you can enjoy soaking up the sights in your own time.
Optional Entrance Into The Roman Baths at Bath
The most popular option of the Stonehenge and Bath tour is to include admission to the Roman Baths, the most popular single attraction at Bath.
The Roman Baths that were built nearly 2,000 years ago around Britain's only hot spring. A magnificent temple and bathing complex that still flows with natural hot water, you will see the water's source and walk where Romans walked on the ancient stone pavements and of course see the baths themselves. An audio guide with excellent commentary, to help you understand the history, is provided as part of admission.
Optional Entrance Into The Jane Austen Centre at Bath
The Jane Austen Centre is a permanent exhibition in an original Georgian Townhouse, set between two of Bath's masterpieces, Queen Square and the Circus. Your guide will escort you to the Museum
Jane Austen, the English novelist responsible for Sense and Sensibility and Pride and Prejudice, is one of Bath's best known former residents, paying two visits to the city towards the end of the 18th Century, and living there from 1801 – 1806.
---
Warwick Castle, Stratford & Oxford Day Tour
The Warwick Castle, Stratford & Oxford Tour day tour takes us north west of London to a very scenic area known as the Cotswolds. This tour also has aspects for kids too. Warwick Castle is very "hands on" and Christ Church in Oxford was used extensively in the Harry Potter films.
You only catch glimpses of the Cotswold villages and countryside, perhaps another day for that, as we travel between Warwick, Stratford and Oxford. Warwick Castle is one of England's finest castle, for the kids its brought to life with displays of archery etc. Then onto Stratford Upon Avon where Shakespeare was born and died and now a living shrine to his life and works. Finally it's over to the famous university city of Oxford where we enjoy a short walking tour and a visit to Oxford's most interesting college Christ Church.
---
Leeds Castle, Dover and Canterbury Day Tour With River Cruise
Runs Monday, Wednesday, Friday and Saturday between April and October. Less frequently during winter months.
The Leeds Castle, Dover, Canterbury and Greenwich day tour is a very varied tour with a lot packed into a busy day.
First stop is Leeds Castle where we are allowed access before Leeds Castle is opened to the public with our own private tour!
Leeds Castle although not the biggest castle in England is surely the prettiest with a fascinating history that stretches to modern times. Its then onto Dover for a photo stop and the famous white cliffs admired. From Dover and then onto Canterbury close by. Canterbury is the centre of Christian worship since its beginning in England. We explore the famous Cathedral and get glimpses of the medieval centre of of the city.
Last but not least we travel to Greenwich, famous for the meridian line but with a great naval and scientific heritage. We leave the touring coach for good here as after a short walking tour we take a river boat from Greenwich right into the heart of London taking around an hour. On the boat you take in many historic sights along the river, even travelling under Tower Bridge. The tour ends at Embankment Pier in the centre of London close to Big Ben and Westminster Abbey.
---
Most Popular Public Tours From London 2017


With Adult Fares Stated & Links To Tour Detail Pages
Visiting Stonehenge and/or Bath and/or Windsor
Windsor, Bath & Stonehenge (inc Lunch, no adm Roman Baths) - £89
Windsor, Bath & Stonehenge (inc Lunch, no adm Roman Baths) - £89
Windsor, Bath & Stonehenge (Small Group - Max 16 people) - £139
Stonehenge & Bath (Stonehenge admission only) - 3.5 hrs in Bath - £57
Stonehenge & Bath (Stonehenge & Baths adm) - 3.5 hrs in Bath - £64
Stonehenge & Avebury - from £59
Visiting Cotswolds and/or Oxford and/or Stratford and/or Warwick
Blenheim Palace, Downton Abbey Village & Cotswolds Tour - £78
Visiting Canterbury, Leeds Castle & Dover
Leeds Castle, Dover & Canterbury (Small Group Apr - Oct) - £139
Special Theme Tours
Small Group Tours (Maximum 16 people)
Lacock, Bath & Stonehenge - £139
1, 2 & 3 Day Breaks To Paris, Scotland & Amsterdam
Day Trip to Paris - from £155
3 Day Paris - from £249
Day Trip to Edinburgh - from £174
2 Day Edinburgh - from £250
3 Day Edinburgh & Scotland Weekend - from £279
3 Day Edinburgh & Scotland Weekday - from £419
3 Day Amsterdam - from £239
---