Gatwick Airport London Travel Information
inc.Transfers To London & Beyond, Hotels, Car Parking & Flights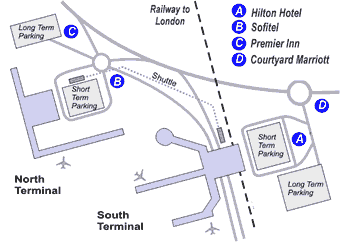 Gatwick Airport Terminal Layout
Gatwick Airport London is around 30 miles south from Central London.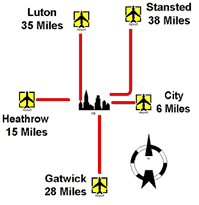 Flights are a mix of traditional scheduled operators operating globally, low cost budget airlines and charter traffic taking the British to the sun. The airport only has a single main runway and has two terminals, north and south.
Gatwick is about 40 miles from Heathrow Airport. As Heathrow operates at full capacity many airlines have sold their slots at Heathrow and now fly from Gatwick. British Airways operates from both airports with significant transit traffic shuttling between the two airports. A lot of people fly long haul into Heathrow and then transit to Gatwick for a European budget airline.
Gatwick Terminals
Gatwick Airport has two passenger terminals called North and South. There is a free and frequent link between them. The train station, the most popular way of getting into London is in the South Terminal.
The terminals have all the banks, ATM's, restaurants and shopping facilities you would expect of a major international airport.
There is Wifi and Internet but it is not complementary.
Luggage trolleys also are not complementary, passengers will need a £1, €1 or US 25-cent coin, which is refunded when the trolley is returned.
There is a left luggage facility operated by the Excess Baggage Company. Look up their web site for current rates and opening times.
Terminals are strictly non-smoking, there are designated smoking areas outside the terminal buildings.
Gatwick Express Train
Gatwick - Central London Transfers
There is wide range of rail and bus transport options for passengers using London Gatwick Airport. Rail options predominate for good reason.
The roads between Gatwick and Central London are not motorway/freeway tandard but wind through suburbia with traffic lights making for a tedious stop, start journey.
Do yourself a favour, take the train if you are going into Central London.
Rail is at least twice as fast as transfers by road vehicle into Central London.
There is a choice of three train services into Central London plus a couple of scheduled bus services.
---
Overview Of Gatwick - Central London Transfers
With Links To Detail Pages
Public Transport
One Way
Return
Travel
Time
Promotional Tickets
Gatwick Express
£17.75*
£31.05*
30 mins
4 for 2, and 5 for price of 3 tickets
First Capital Trains
£10.00#
£19.00#
45 mins
Cheaper fares available London Bridge
Southern Trains
£14.40#
£28.80#
40 mins
Advance online tickets £5.00-£10.00
National Express Bus
£8.00
£14.00
90 mins
Advance online fares from £6.50
easyBus
From £2 each way*
70 mins
£10 each way buying ticket on day.
* 10% online discount fare # Standard travel anytime fare
Inter Airport Transfers Between Gatwick and Heathrow, Stansted & Luton Airports
There are direct transfers available to and from London's three other main airports, Heathrow, Stansted and Luton.
Inter Airport Bus Services From/To Gatwick - Fares & Schedules.
Gatwick Hotels
There is a wide range of accommodation around Gatwick. There are two expensive 4 star hotels, the Hilton Gatwick and Sofitel Gatwick attached to each passenger terminal. Hotel rates are seasonable.
The only budget hotel within walking distance of the terminals is the Premier Inn North Terminal Gatwick.
We have a Gatwick hotel map at the bottom of this page. Nearly all hotels offer Gatwick hotel and parking packages.
Gatwick Long Term Car Parking
There is a good choice of long term parking options both on and off airport, including meet and greet variants. Nearly all hotels offer Gatwick hotel and parking packages.
Gatwick Long Term Car Parking More Details