Transfers Between Heathrow & Gatwick Airport
Direct or Via London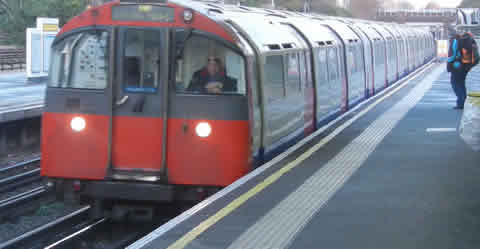 Heathrow London Underground Train
The Only Direct Heathrow - Gatwick Public Transport IS Not The Cheapest
By far the most popular option connecting Heathrow and Gatwick are the frequent (around 100 services a day each way) bus / coach shuttles that provide near 24x7 schedules between Heathrow and Gatwick airports. These are run by National Express.
Note - there is no direct Heathrow - Gatwick train service.
Note - there is no Heathrow - Gatwick shared van shuttle style service.
Heathrow
To & From Gatwick
At Gatwick the bus picks up from both passenger terminals, North and South Terminal.
At Heathrow its a little more complicated. All buses go to the Central Bus Station where Terminals 1 and 3 are. Its a 10 minute walk between the bus station and these terminals underground using moving walkways and lifts. You can also get a free train every 15 minutes from here to Terminals 4 and 5.
Most buses stop at Terminal 5 between Heathrow and Gatwick, some stop at Terminal 4.
The National Express Heathrow - Gatwick buses only stop at the passenger terminals, they do not stop at hotels at either Heathrow or Gatwick. If you are using one of the hotels you will need to take the hotel's own transport between the hotel and airport passenger terminal.
Inter Airport Transfers

Airport to Airport Transfers

Airport Hotels

Airport Day Rooms

Airport Lounges

Groups
Inter Airport Transfers
Airport to Airport Transfers
Airport Hotels
Airport Day Rooms
Airport Lounges
Groups
Cheapest Transport Heathrow - Gatwick Airport
The cheapest way to travel between Gatwick and Heathrow Airports is by London Underground and bus. Expect a travel time of around 3 hours or more though and being required to drag luggage up escalators and stairs and travel in crowded train carriages.
Going in the Heathrow to Gatwick direction you would get the London Underground from Heathrow to either Victoria or Fulham Broadway.
You then get either the National Express London Victoria to Gatwick Airport bus or the easyBus Fulham Broadway - Gatwick bus.
Longer Stopover In London
If you are staying overnight or just wanting a stopover then London Victoria is the benchmark location to head for. There is a choice of rail or bus between Gatwick and Victoria and the Underground or National Express coach between Victoria and Heathrow.
If you are on a budget and want to stay overnight, then Kings Cross St Pancras is a good alternative to Victoria hotels to consider. There is a direct First Capital train between St Pancras and Gatwick and the Underground will take you direct between Kings Cross St Pancras and Heathrow.
Other good alternatives to look at are Paddington and Kensington, both with quite good links to both Heathrow and Gatwick, but not direct both ways.
Heathrow - Central London by Public Transport - Your Options
Gatwick - Central London by Public Transport - Your Options
Left Luggage Offices In London For Your Stopover
There are left luggage facilities at St Pancras, Paddington and Victoria rail stations and also at Victoria Coach Station.
The left luggage office at Victoria coach station is slightly cheaper than at the rail stations.
Time To Kill At The Airport? - Why Not Visit Windsor Instead, Its Convenient & Good Value Too
If you have a late flight out of Heathrow or a long stopover killing time at the airport is something most people dread the thought off.
A much more attractive proposition is to spend your time in the attractive town of Windsor, just a few miles from Heathrow Airport. Windsor Castle pictured right is what it is famous for but there is much much more to Windsor and Eton than the castle.
We have flexible packages for all group sizes.
A luggage storage service is available whilst you are in Windsor and there is a flat fee rate, no matter how much or little time you spend in Windsor - no waiting time charges apply.
The stopover solution is a private solution customised to every customer. This is not a public tour with set operating times.
Windsor Stopover / Late Flight Solution - More Details
Semi Independent or Guided Tour Transfers
We can customise a day or half day to remember reflecting your personal interests whether there are two or two hundred of you.
We love working with our customers to understand their interests and timescale's and provide a customised itinerary that fits your schedule and pocket. So fill in the enquiry form below with as much detail as you can.
If you just want transport we can do that too. We'll transport you into London, perhaps do a one hour orientation tour and drop you off at a place of your choosing. At an agreed time and place we'll then come and pick you up again. If you have luggage we'll take care of that too.
If you know exactly what you want, all the better.
---