Heathrow Airport London Travel Information
inc.Transfers To London & Beyond, Hotels, Car Parking & Flights
Heathrow Airport Terminal Layout
Heathrow Airport London is around 15 miles west from Central London.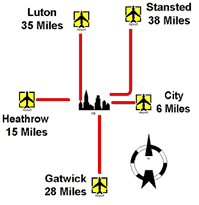 Heathrow Airport Terminals
Heathrow Airport consists of 4 terminals. Terminals 1 and 3 are in the middle of the airport surrounded by the runways. This area called 'Central' is the hub of the transport network at Heathrow.
Terminal 4 is on the southern boundary of the airport. The Heathrow Connect train runs (free) between Terminal 4 and the central area, train runs every 15 minutes.
Terminal 5, (dominated by British Airways) is on the western boundary of the airport. You can use the Heathrow Express train to travel (free) between Terminal 5 and the central area, train runs every 15 minutes.
The terminals have all the banks, ATM's, restaurants and shopping facilities you would expect of a major international airport. There are no flights between about midnight and 5 a.m. so the airports virtually shuts down during this period.
There is a left luggage facility operated by the Excess Baggage Company. Look up their web site for current rates and opening times.
Terminals are strictly non-smoking, there are designated smoking areas outside the terminal buildings.
Heathrow - Central London Transfers
There is wide range of rail and bus transport options for passengers using London Heathrow Airport. Below is an outline schematic map and below that a table depicting the relative costs and frequencies.
Click through on the links for more detail.
Inter Airport Transfers Between Heathrow and Gatwick, Stansted & Luton Airports
There are direct transfers available to and from London's three other main airports, Gatwick, Stansted and Luton.
See links on menu on the right for full details.
Heathrow Hotels
There is a wide range of accommodation around Heathrow. There are only two hotels you can access without taking a transfer bus, the Hilton Heathrow at Terminal 4 and the Sofitel Heathrow at Terminal 5. Needless to say these are the most expensive hotels on the airport.
There are no complementary hotel shuttle buses, the airport authorities banned them. Instead there are Hoppa Buses that charge a standard fare to all Heathrow hotels, each route services 3 or 4 hotels.
We have a Heathrow hotel map at the bottom of this page. Nearly all hotels offer Heathrow hotel and parking packages.
Heathrow Long Term Car Parking
There is a good choice of long term parking options both on and off airport, including meet and greet variants. Nearly all hotels offer Heathrow hotel and parking packages.
Heathrow Long Term Car Parking More Details
---