Heathrow Lodge - Cheap Hotel With Free Airport Transfers
Double Rooms From £34 Per Night
The Heathrow Lodge Hotel offers cheap accommodation close to the Heathrow passenger terminals and almost unique at Heathrow offers a free airport transfer service. The cheapest rooms at the Heathrow Lodge Hotel are in an annexe and have hand basins in the rooms and shared bathrooms.
The Heathrow Lodge is particularly worthwhile considering if you are using Terminal 5. It is the closest accommodation to Terminal 5 bar the very expensive Sofitel which is attached to terminal 5. There is a free local bus that runs 2 or 3 times an hour between Terminal 5 and a bus stop a few yards from the Heathrow Lodge.
There is a choice of pubs, one opposite, and a McDonalds is at the other end of the village, about a 15 minute walk.
Heathrow Lodge Details
Number of Rooms :52
Rooms Available : Singles, Doubles, Twins, Family Rooms accommodating up to 4.
The cheapest rooms are not en suite, (although these are available for a supplement).
This is not a Bed & Breakfast, breakfast is not included in room rate.
Heathrow Lodge Room Facilities :
All bedrooms have TV, Tea & Coffee making facilities, direct dial telephone full central heating double glazing.
Internet - Wi-fi is available in public areas and is chargeable.
Heathrow Airport

Transfers To/From London

Airport to Airport Transfers

Cruise Port Transfers

Transfers To The Rest Of The UK

Airport Hotels

Day Rooms & Lounges

Heathrow Hotel Transport

Heathrow Hotel Districts

Long Term Car Parking

Layovers & Sightseeing
Heathrow Airport
London Transfers
Airport To Airport
Cruise Transfers
Transfers Rest Of UK
Heathrow Hotels
Hotel Transport
Hotel Districts
Car Parking
Layovers & Sightseeing
Room Service - No
Heathrow Lodge Public Facilities :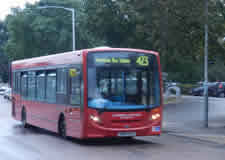 Heathrow 423 Local Bus
24-Hour Front Desk. Wi-fi is available in public areas and is chargeable.
Car Parking - Last advised as £5.50 per night for residents.
Heathrow Lodge Transfers To/From Passenger Terminals:
The hotel is 5-10 minutes from terminals 1, 3, 4 and 5. A free courtesy bus service runs from 06:00 to 10:30 and 18:00 to 22:30.
A local public bus, route 423 runs two or three times an hour from/to Terminal 5 with a bus stop within yards of the Heathrow Lodge. It runs from very early morning until late evening. The Heathrow Lodge is the first bus stop after leaving the airport. This journey is free.
From Terminal 5 there is a choice of free local buses from Terminal 5 to Terminal 4 and you can also ride free on the Heathrow Express train between Terminal 5 and Terminals 1 and 3 in the centre of the airport.
More Details of Local public buses at Heathrow.
---
Heathrow Lodge Prices & Reservations
Lowest Cost Flexible Rates Instantly
Flexible room rates at the Heathrow Lodge are offered.
Flexible rates allow cancellations up to 1 day prior to the date of arrival without penalty but may vary on certain rates, so check. With flexible rates there is no deposit, you pay at the hotel.
Vicinity Around Heathrow Lodge:
The hotel is on the north-western corner of the airport in the village of Longford. There are two pubs within sight of the Heathrow Lodge, one directly opposite.
Two local bus routes go past the Heathrow Lodge about every 10 minutes. Going eastward both buses go along the entire length of the Bath Road, the main hotel strip where there is a good choice of restaurants, fast food and more pubs.
A detailed guide to the Bath Road locality (Western End)
---
Indicative Heathrow Hotel Room Rates


Sampled prices at Heathrow for early June 2013

Hotels Walkable To Passenger Terminals (Note: No Hotels Within Walking Distance Of Terminals 1 & 3)

Hotel & Link To Detail Page

Mid-week

Week-End

£115

£90

£213

£114

Heathrow Airport Budget / 3 Star Hotels

Hotel & Link To Detail Page

Mid-week

Week-End

Heathrow Lodge ~+#

£34

£34

£42

£34

£39

£35

£39

£36

£40

£39

£41

£41

£49

£49

£71

£49

£85

£49

£79

£53

£79

£55

£79

£55

£70

£70

£76

£80

Heathrow Airport 4 & 5 Star Full Service Hotels

Hotel & Link To Detail Page

Mid-week

Week-End

£58

£50

£105

£50

£98

£53

£92

£62

£92

£62

£113

£67

£93

£69

£125

£72

£111

£73

£159

£75

£115

£77

£179

£79

£157

£82

£159

£85

£127

£89

£100

£100

£115

£115

~ Single Rooms + Triple Rooms # Quad Rooms
---
---