Discount Hotels Heathrow Airport London
Holiday Inn M4 J4 - Discounted Mid Range Hotel - Rooms From £62
Discount hotels at Heathrow Airport are readily available. At the top end of the market, the many 4 star chain hotels at Heathrow are heavily aimed at businessmen. At the weekends when the businessmen go home these hotels deep discount to levels almost comparable to the budget no frills hotels at Heathrow.
In the budget sector, there are several Heathrow budget hotels aimed at the leisure traveller. Premier Inn, Travelodge, Ibis and Comfort Inn all offer similar product at competitive prices. Again at weekends room rates are heavily discounted.
The Holiday Inn (M4 J4) is a typical full service discount hotel at Heathrow. At weekends room rates are some of the cheapest on the airport, during the week prices are well above the budget hotels. There are four Holiday Inn Heathrow Hotels, the others are Holiday Inn Ariel, Holiday Inn Bath Road and Holiday Inn Express Terminal 5. There is little to choose between the 4 Holiday Inn options, all have their pluses and minuses and prices relative to each seem to change all the time.
If you are wondering about the name, the Holiday Inn (M4 J4), the M4 is the name of the motorway/freeway adjacent to the hotel and J4 is short for Junction 4 the main junction from the M4 for the airport spur road.
Holiday Inn Heathrow Airport M4 Junction 4 Details
Number of Rooms : 617
Rooms Available : Double/Twin Rooms & Suites. Family rooms for 2 adults, 2 children
Holiday Inn Heathrow Airport M4 Junction 4 Room Facilities :
Standard Rooms at the Holiday Inn M4 J4 Heathrow have soundproofing, air conditioning, double glazing, satellite and cable TV with pay-per-view movies, an en-suite bathroom with toiletries, a hairdryer, tea and coffee, an iron and an ironing board, a trouser press, a desk with a lamp, internet access, a phone with voice mail and a safe. You can even get video games in your room.
Heathrow Airport

Transfers To/From London

Airport to Airport Transfers

Cruise Port Transfers

Transfers To The Rest Of The UK

Airport Hotels

Day Rooms & Lounges

Heathrow Hotel Transport

Heathrow Hotel Districts

Long Term Car Parking

Layovers & Sightseeing
Heathrow Airport
London Transfers
Airport To Airport
Cruise Transfers
Transfers Rest Of UK
Heathrow Hotels
Hotel Transport
Hotel Districts
Car Parking
Layovers & Sightseeing
Executive Rooms have a dedicated check-in area and have free newspapers. Rooms have mini-bar and fridge and come with robe and scales. There is also access to meeting rooms.
Suites are a home from home with much more room.
Internet - High-speed and wireless internet access is available throughout the hotel. charges are applicable.
Room Service - Room service at the Holiday Inn M4 J4 is available 24 hours a day.
Holiday Inn Heathrow Airport M4 Junction 4 Public Facilities :
The hotel has a gym, which is open 24 hours a day.
A children's playroom with toys and DVDs, two restaurants, a bar, a coffee bar, wifi, a cash machine, a gift shop, a convenience store, a laundry, a concierge, and flight information screens in the lobby. There are safes at reception.
The hotel's main eatery is the Rotisserie restaurant. The menu ranges from British meat, including Blythburgh pork and herb sausages and slow-braised beef, to more exotic dishes such as fajitas or lamb dhansak.
Car Parking - 450 parking spaces. Last advised as £10 per night for residents.
Long term parking packages are available at extremely attractive rates.
Holiday Inn Heathrow Airport M4 Junction 4 Transfers To/From Passenger Terminals:
There are 4 passenger terminals at Heathrow numbered 1,3,4 and 5. The hotels at Heathrow are not allowed to run their own airport shuttle vehicles between the airport and the hotels.
Hoppa Buses - are regulated by the airport authority and run on fixed routes, each serving 2 or 3 Heathrow airport hotels. Hotels have one bus for Terminals 1 & 3, another for Terminals 4 & 5.

---
Holiday Inn Heathrow M4 J4 Prices & Reservations
Lowest Cost Flexible & Advance Purchase Rates Instantly
Both flexible and cheaper advanced purchase rates made are normally available at the Holiday Inn Heathrow Airport M4 Junction 4 .
The cheaper advance purchase rates require payment at time of booking and are non-refundable, the cheapest advance purchase rates normally have to be booked further out than 21 day before arrival.
Flexible rates allow cancellations up to 16:00 on the date of arrival without penalty but may vary on certain rates, so check. With flexible rates there is no deposit, you pay at the hotel.
Vicinity Around Holiday Inn Heathrow Airport M4 Junction 4 :
The Holiday Inn Heathrow (M4 J4) is situated about a mile north of Heathrow Airport at the junction of a motorway spur into Heathrow Airport. There is a cluster of four chain hotels here, but little else.
However its just a 5 minute walk from the Holiday Inn Heathrow (M4 J4) into the local village, Sipson. Sipson has some restaurants, pubs and a small convenience store for your every day needs at local prices.
A local bus, route 222 stops outside the Holiday Inn Heathrow (M4 J4) and runs to Uxbridge or Hounslow about every 10 minutes, both regional shopping centres.
A detailed guide to locality around the Holiday Inn M4 J4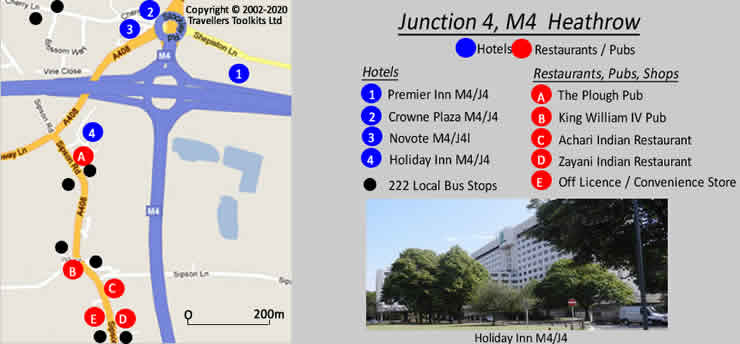 ---
Indicative Heathrow Hotel Room Rates


Sampled prices at Heathrow for early June 2013

Hotels Walkable To Passenger Terminals (Note: No Hotels Within Walking Distance Of Terminals 1 & 3)

Hotel & Link To Detail Page

Mid-week

Week-End

£115

£90

£213

£114

Heathrow Airport Budget / 3 Star Hotels

Hotel & Link To Detail Page

Mid-week

Week-End

Heathrow Lodge ~+#

£34

£34

£42

£34

£39

£35

£39

£36

£40

£39

£41

£41

£49

£49

£71

£49

£85

£49

£79

£53

£79

£55

£79

£55

£70

£70

£76

£80

Heathrow Airport 4 & 5 Star Full Service Hotels

Hotel & Link To Detail Page

Mid-week

Week-End

£58

£50

£105

£50

£98

£53

£92

£62

£92

£62

£113

£67

£93

£69

£125

£72

£111

£73

£159

£75

£115

£77

£179

£79

£157

£82

£159

£85

£127

£89

£100

£100

£115

£115

~ Single Rooms + Triple Rooms # Quad Rooms
---
---